When you're both a mom as well as a serial entrepreneur, sometimes you have to think outside the box to find a community that you can relate to as well as share and support one another's endeavors. For Jill Salzman it was after she started her second business venture that she realized she needed that extra support and so it was then that her THIRD venture was born!
This creative and collaborative offline community, now known as The Founding Moms, has become a community for mom entrepreneurs to better build and manage their businesses offline as well as on. These face-to-face meetups became the catalyst to her successful startup business and her passion for empowering moms alike nationwide.
Who is Jill Salzman? Well she is definitely Not your typical run-of-the-mill entrepreneur!
Becoming tired of the day to day fuddy-duddy corporate look, Jill Salzman has taken on a persona that is more true to her unique self. Armed with a zany wardrobe and accompanied with even sassier accessories; Jill has favored a more avant-garde approach to her day to day dealings with her business and community. You'll often find Jill wearing oversized glasses (sometimes with the tag still on them!) or even scuba goggles. (see pics below) Why? Because she can and it gets people wondering and watching and wanting more. Jill Salzman is in a league of her own and the score is truly in her favor.



Favoring a more avant-garde approach to her daily dealings within her biz, you'll often find Jill wearing oversized glasses or scuba goggles. Why? Because she can & it gets people watching & wanting more. @foundingmom is in a league of her own with the score in her favor.
Read more about Jill Salzman and what she's been up too as we continue our mom entrepreneur interview series:

We'd love to know more about your background and how you got started in your ventures. Did any of your previous work history or experiences prepare you for what you do now?
My background makes it seem like I'm prepared for an entirely different career than the one I have! I have an undergraduate degree in biology (with a focus on brain & behavior) from Brown University and I got my law degree shortly after that. Do I work in the sciences or practice law? NOPE. But of course, all of my experiences prepared me for the work I do now in small ways. Now I revel in the fact that I get to help mom entrepreneurs find their business strengths, grow their companies, and help them make more money. Do I recommend that sleep is an important component to making more money (having worked in a Sleep Lab)? Yes. Am I comfortable reading through contracts and making deals for The Founding Moms thanks to my legal training? Yes. Have I also spent 12 years building businesses and learning so much more than any educational institution could have taught me? Absolutely.
So Jill when you first started your businesses what were some of the obstacles you ran into and how were you able to overcome them? What was your take away from those experiences?
My impatience and my optimism are two areas that I am always working on. I want things done yesterday, and I trust that anyone and everyone I run into can help me in some way. Bill Nye said it best when he pointed out that "everyone you will ever meet knows something you don't." I firmly believe that. But it doesn't help so much when I'm so optimistic about a new hire that I don't vet them well, I trust that they'll do right by us, and then I get supremely impatient and disappointed when they ended up being a bad call. It took me years to see that the issues surrounding bad hires and workflow inefficiencies were because of ME! That's why I love entrepreneurship, by the way — it's taught me a lot about self-discovery in ways that I never anticipated.

Before launching The Founding Moms you had two previous business ventures. Tell us what was your first 'aha' moment that made you realize you had a marketable product/service and what was your inspiration behind it?
I launched Paperwork Media, my first biz in which I managed bands because I had prior experience working at a record label. I had no hard facts about how marketable my services were but I was confident that I could help artists. And I did. Their excitement alone to find a good manager was enough for me to go on and build my business. When I had enough inquiries about where folks could buy the baby jewelry that my daughter wore as an infant, I knew there was demand for it. If a lot of people ask you where they can buy something, it makes you think that you may have an audience right there to sell to…and that's what I did and that's how I launched The Bumble Brand and sold sterling silver anklets. I ended up selling the biz three years later because I figured out that I hate selling products. No matter how well it was doing, I couldn't stand it that my products couldn't talk to me. I'm really a service-based gal — that's one thing I know for sure.
If a lot of people ask you where they can buy something, it makes you think that you may have an audience right there to sell to...and that's what I did and that's how I launched The Bumble Brand and sold sterling silver anklets. I ended up selling the biz three years later because I figured out that I hate selling products. No matter how well it was doing, I couldn't stand it that my products couldn't talk to me. I'm really a service-based gal -- that's one thing I know for sure.
Would you do anything differently at the beginning of your business if you knew then what you knew now? If you could go back in time what would you tell Jill Salzman before she started?
I'd tell my early entrepreneurial self to slow down, focus more, and stop being so impatient. But I also know that early Jill would have shrugged her shoulders at the advice and kept moving. So, I'm not sure I'd do a thing differently. Because of the mountain of mistakes I've made over the years, I've become a much better businesswoman.
How did you go about becoming a Ted Talk speaker?
I got lucky! The organizer of TEDxNaperville was hosting his first-ever conference and someone introduced us…there were very specific requirements for getting a spot and I was such a TED junkie that I was ecstatic to be accepted into the lineup. I've never rehearsed for a talk more in my life. I've also never given a talk where I blacked out the entire time from fright — I'm a very comfy gal on a stage but my respect for TED knows no bounds, so it was pretty intimidating. The experience was MAGICAL. I can't wait to do one again.
Watch Jill's Ted Talk here!
What inspired you to start The Founding Moms?
I had zero inspiration to start The Founding Moms. It was an accident. I was running two businesses with two babies in tow and freaked out about how I was going to make it all happen. I didn't know anyone at the time who had a business and a baby (let alone two businesses and two babies) so I thought, "Why don't I open a Meetup on Meetup.com and see if there's anyone out there who's as scared as I am?" So I did. That was 9 years ago. Now we have Founding Moms website here, our weekly masterminds, in 60+ cities in 12 countries…and growing! We also have an online portal, Founding Moms website here , where women can exchange and learn all about mom entrepreneurship in a global online community.
If someone wants to start their own Founding Mom chapter in their area how would they go about doing that?
So glad you asked! Folks can head to our Founding Moms website here or email aya <at> foundingmoms.com to launch one in your area. It costs $35/mo to attend our offline Exchanges and $35/mo to join our FMC (or $60 for both) – which is a steal because it's thousands of dollars worth of consulting and education in there happening each and every month.
Does anyone in your family help with running your business or do you have a staff? What tips do you have for finding quality people to work for you?
In my latest book, The Best Business Book In The World* (*according to my mom), my kids helped out tremendously with doodling all over the pages. They're often my biggest helpers! They'll weigh in on social media captions and photos, too. They may only be 9 and 11 but I trust them quite a bit at this point. (Why else did I give birth? Future interns!)
As for finding quality folks to work with; I have found that the best so far have been strong referrals from people I know and trust.


What advice would you impart to mom entrepreneurs who have a great idea for a product or service but perhaps aren't exactly sure where to begin?
Stop waiting. Don't keep it a "great idea" — move on it. Ask people if they'd buy. Test outselling it immediately. The longer you wait, the longer you have no idea whether the market will buy it…so ask them.

If there was one thing that you want to be remembered for what would it be? What legacy do you want to leave for your children and the world?
I'm doing my darndest to make sure that folks know business does not have to be boring. If you see the pics I post to Instagram alone, you can tell that I have a lot of fun in what I do. I hope to impart to folks for generations to come that we can skip the stuffy, boring, suit-wearing ways of running businesses and bring more joy into every aspect of it.

Thank you Jill for providing your insight and advice and creating communities that empower more mom entrepreneurs like yourself who want to improve and expand their business and personal lives.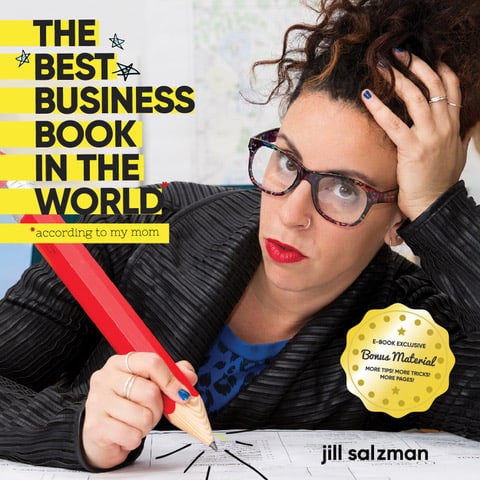 Jill Salzman has published and authored four books including The Best Business Book In The World*: (*according to my mom) and her best-seller, Found It: A Field Guide for Mom Entrepreneurs. Jill is a co-host of 'Breaking Down Your Business' which was included as Inc. Magazine's top-rated entertaining business podcast. She even gave a TED talk on 11/11/11! Crazy cool right?
Jill was recently named one of the Top 50 Women to Watch in Tech as well as a Top 100 Champion Small Business Influencer when Forbes' named The Founding Moms one of the Top 10 Websites For Entrepreneurs. MSN Live named her the "Cool Mom Entrepreneur We Love" and she was dubbed a "mommy mogul" by CNNMoney.
Jill Salzman has graced many audiences with her exuberant personality and has shared the stage as a speaker with Marilu Henner, Sheryl Sandberg, Richard Branson, Desmond Tutu, and Daymond John.
You can catch Jill Salzman regular appearances on ABC7's Windy City Live TV show as well. In her spare time, Jill enjoys baking, kloofing and erasing her daughters' crayon artwork from the kitchen walls of her home.
---
About the Author
Latest Posts
As the founder of Why Not Mom; a unique online directory of mom-owned boutiques and mom-invented products, Tonia has strived to create a unique organization of female business owners, creating a diverse network that assists each other in driving more business to one another, in addition to providing tools and resources to achieve success in their business endeavors. It is her passion to make Why Not Mom the world's largest online directory of women-owned businesses in the pursuit of strengthening families and supporting small business owners worldwide.